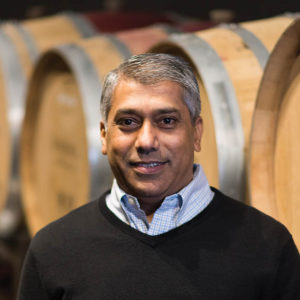 Raj Patel
Patel Wines
«Back to All Panelists
Biography
PATEL Napa Valley strives to create outstanding Bordeaux-varietal wines produced in a neo-classical style yet distinctively Napa Valley in expression, whether exploring Cabernet Sauvignon in-depth from a variety of AV As within the Valley, or showcasing some of our favorite Bordeaux varietals. Sourced from Atlas Peak, Carneros, Coombsville, Oakville, and Rutherford, each PATEL wine is passionately crafted to express the uniqueness of its terroir and exhibit a distinct individual personality, true to the characteristics of the varietal.
Producing the most expressive Cabernet Sauvignon possible, from Napa Valley's finest vineyards is Raj Patel's primary focus and it has been since the winery's first vintage in 2007. Originally from India's Gujarat State, he settled in Northern California in the 1970s and attended the University of California, Davis, where an internship at Robert Mondavi Winery sparked what would become a lifelong interest in fine wine.
As a financial industry executive, Raj knows the importance of high-quality investments geared toward steady long-term growth. He was determined to become a vintner by age 55, but instead turned his dream into a reality 15 years ahead of schedule, by purchasing small amounts of fruit from established growers and producing the wine in other vintners' wineries.
At a mere 700 case production, PATEL wines are offered directly to loyal mailing list members and through limited distribution in a handful of key markets.
Our passion is and always will be, to produce beautiful wines of outstanding quality, with distinction and elegance. We hope we have succeeded and invite you to enjoy PATEL with Family and Friends!