Festival Sponsors and Partners

Kapalua Resort
Kapalua Resort is 22,000 acres of stunning natural beauty. Located on Maui's northwest shore, the vast lands of the resort stretch from the highest peak in the West Maui Mountains to the edge of the Pacific. In between, Kapalua Resort showcases its position as Hawaii's #1 golf resort, a playground to enjoy life's greatest pleasures, and a tropical paradise to visit or call home. In Hawaiian, Kapalua poetically means "arms embracing the sea," a reference to the lava peninsulas that form Kapalua Resort's six azure bays.
Home to a variety of world-renowned amenities and activities, a visit to Kapalua can be action-packed or relaxing, the choice is yours. Two championship golf courses, the Bay & the Plantation – home to the PGA TOUR Hyundai Tournament of Champions; Kapalua Golf Academy; a full service Tennis complex with 10-plexi-pave courts; Kapalua Ziplines and adventure course; three white sand beaches included two which were voted as America's Best Beaches – Kapalua Bay and DT Fleming Beach and miles of coastal and mountainside hiking trails, award-winning dining and restaurants. VISIT PARTNER SITE

The Ritz-Carlton, Kapalua
Immerse yourself in a true Hawaiian experience at The Ritz-Carlton, Kapalua, a AAA Five-Diamond beachfront resort. Cultural and environmental appreciation combined with world-class service and facilities deliver a true escape. From beachfront dining to Hawaiian spa treatments, luxurious poolside cabanas, cultural and recreation, this resort is an unforgettable island oasis. VISIT PARTNER SITE

Kapalua Golf
Festival Sponsor Kapalua Golf, managed by Troon Golf, features 36-holes of award-winning golf and Kapalua Golf Academy a Golf Magazine Top 25 Golf School. The Plantation Course, a Bill Coore and Ben Crenshaw design, is home of the PGA TOUR Sentry Tournament of Champions and ranked the #1 Golf Course in Hawaii by Golf Digest. The Bay Course, designed by Arnold Palmer and Frances Duane has been dubbed "Hawaii's favorite resort course," and has hosted multiple PGA and LPGA TOUR events including the Kapalua LPGA Classic. Kapalua Golf Academy is Hawaii's most comprehensive learning center and practice facility and offers individual lessons, golf schools, video analysis, custom club fitting, group lessons and on-course playing lessons. For additional information, visit www.GolfAtKapalua.com or call 1-877-KAPALUA. VISIT PARTNER SITE

Montage Kapalua Bay
Montage Kapalua Bay celebrates art and artisanship in many forms, from architecture and local art to culinary and spa offerings, all inspired by the rich surroundings and culture of Hawaii. Set beachfront atop picturesque Kapalua Bay, the 24 acre-resort features Montage branded residences and an intimate 50 suite Montage resort. Relax by the multi-tiered lagoon pool which cascades down the center of the resort, or dine on island-inspired cuisine in one of the resort's restaurants. All-suite accommodations are a resplendent retreat with spacious living rooms, private lanais, fully equipped kitchens, elegant master suites and luxurious bathrooms. VISIT PARTNER SITE


Maui Visitors Bureau
Maui Nui gives you three great destinations in one; our county includes the Isles of Maui, Moloka'i and Lana'i. Experience Hawaii perfectly on our tropical islands which are packed with exciting activities and a lively local culture all in a gorgeous natural setting, for details go to www.visitmaui.com or call 1 800 525 MAUI (6284). VISIT PARTNER SITE

Choose an island that's right for you, find the resort of your dreams then explore all the activities, shopping and dining that await you in paradise! Hawaii.com Your complete source for island travel. VISIT PARTNER SITE

Alaska Mileage Plan™
With the most non stop flights from the West Coast to Hawai'i, Mileage Plan is thrilled to be a major sponsor of the Kapalua Wine & Food Festival. Alaska Airlines is the only major US Airline to offer miles for distance traveled, not just for dollars spent. You'll earn one mile for each mile flown to any of 100+ destinations on Alaska. Alaska Airlines Visa Signature® card is the preferred credit card of Kapalua Wine and Food Festival.
Join Mileage Plan for free today, learn more.

FIJI® Water, natural artesian water bottled at the source in Viti Levu (Fiji islands), is the No. 1 imported premium bottled water in the United States. FIJI Water, known for its iconic square bottle, soft mouth feel and unique mineral profile, is the water of choice among discerning consumers and top chefs. Widely available at fine restaurants and hotels, all major retail channels and through a convenient home/business delivery service, FIJI Water has expanded globally to more than 60 countries. To discover Earth's Finest Water, please visit www.fijiwater.com, like us on Facebook, or follow us on Instagram and Twitter.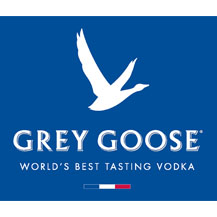 Grey Goose Vodka
To create Grey Goose® Vodka, François Thibault maintains an unrivaled level of craftsmanship, using only the very finest ingredients. Taste is initially soft with a gentle sweetness, light citrus and a smooth rounded texture and a hint of almond. Its signature smoothness and distinct character are the result of an extraordinary passion for spirit-making and an unparalleled commitment to the highest possible quality. VISIT PARTNER SITE

Banks Rum
Inspired by the travels and discoveries of legendary 18th-century British explorer and botanist Sir Joseph Banks, the BANKS Rums Collection includes two permanent super-premium white rums – BANKS 5 Island Rum and BANKS 7 Golden Age Blend, plus limited editions. Using time-honored nautical methods and a secret blending techniques, BANKS Rums are born of rums sourced from some of the most artisanal producers in the Caribbean, giving BANKS rums their distinctive flavors and aromas. BANKS is a blend of more than 20 rums of different ages, including spirits from Trinidad, Jamaica, Guyana, Barbados and Indonesia. The final blends are aged in used Bourbon barrels, resulting in an appealing, sophisticated and complex flavor profile. VISIT PARTNER SITE

Petrossian Caviar
Petrossian West Hollywood Restaurant and Boutique, located at 321 North Robertson Boulevard (one block north of Beverly Boulevard), opened in 2001 to much fanfare and has established itself as a cornerstone of the West Hollywood culinary scene. We combine the sophistication and legacy of the Petrossian name with a colorful, inspired menu, luxurious Petrossian products and high-quality service to eat in or to take out for breakfast, lunch, and dinner. VISIT PARTNER SITE

WÜSTHOF-TRIDENT OF AMERICA, INC.
Long renowned as "The City of Blades," Solingen, Germany has earned the reputation of crafting the world's finest cutlery for generation after generation. Located in Western Germany near the banks of the Wupper River, Solingen has been home to master blacksmiths for over 2,000 years. The many creeks and spillways of the river were perfectly suited to provide power for the production of blades in the 18th and 19th centuries. It was then, in the year 1814, that WÜSTHOF first got its start in Solingen and the business has remained in the Wüsthof family ever since.
Knives made in Solingen have long been honored and prized for their outstanding quality and craftsmanship. For this reason, the name Solingen has been protected with legislation, "The Solingen Decree," so that this dedication to quality is maintained and that knives made in Solingen meet the most exacting standards. WÜSTHOF continues to call the picturesque city of Solingen its home, and proudly marks each blade as "Made in Solingen." Learn more here.