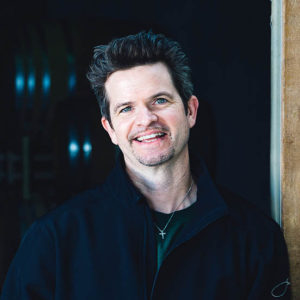 Jonathan Nagy
Byron/Nielson
«Back to All Panelists
Biography
It's not surprising that a winemaker with deep roots in Santa Barbara County wine country would be driven to make wines so deeply rooted in its most distinctive vineyards. As the winemaker at Santa Barbara's Byron Winery, Jonathan Nagy crafts single vineyard Pinot Noir of extreme site expression in
Sta. Rita Hills' and Santa Maria Valley appellations.
Born and raised in Santa Barbara County, Jonathan grew up with the region now regarded among California's top places for cool-climate wines. When it came time for college, he headed for the University of California, Davis, earning a Bachelor of Science in Chemistry. Following graduation, Jonathan worked in a winery lab, holding positions as both a Lab Director and Enologist.
In 2001, Jonathan made a career-defining move to Byron Winery, as assistant winemaker to winery founder, and pioneering Santa Barbara vintner, Ken Byron Brown. The two bonded quickly over their fascination with Pinot Noir's ability to express singularity of site and their shared commitment to
bringing critical focus to Santa Barbara wines.
In 2003, Jonathan took the reins from his mentor, as Director of Winemaking for Byron Winery. At the time, Ken said "Jonathan has great wine knowledge and savvy instincts… and one of the best palates I've ever tasted alongside."
Today, Jonathan is focused on Byron's original charter to make site-expressive wines that underscore the distinct signatures of Sta. Rita Hills and Santa Maria Valley. He oversees all efforts in the vineyard and cellar. He sources grapes by row and block from Byron's storied estate vineyard as well as other top sites including, John Sebastiano and Rita's Crown vineyards in Sta. Rita Hills, and Bien Nacido and Julia's vineyards in Santa Maria Valley.
To optimize flavor, site expression and palate balance, Jonathan vinifies vineyard lots separately by block and clone. "Our single vineyard approach guides my desire to express the character of the grape as it responds to a particular site," explains Jonathan. "Its fascinating how Pinots can showcase such different personalities from vineyard to vineyard, or even block to block."
Jonathan lives in Santa Maria with his wife Clarissa – who is also a winemaker – and their young daughter. A music fanatic and outdoor enthusiast, Jonathan enjoys spending time with family and exploring Santa Barbara's back roads.