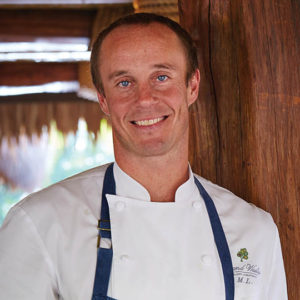 Mike Lofaro
«Back to All Chefs
Biography
Mike Lofaro is chef de cuisine of the prized Humuhumunukunukuapua`a at Grand Wailea, A Waldorf Astoria Resort and carries the titles of Hottest Chef on Maui, 2016 Chef of the Year, Most Innovative Menu, Best Pacific Rim and Best Resort Restaurant. He is co-host of the Emmy Award-winning television series SEARCH Hawaii, Where Food Meets Culture. Lofaro is inspired by the Pacific Ocean and what he finds there. Fondly nicknamed the "waterman chef," he is often found surfing, paddling his outrigger canoe, and spearfishing when not training for his next triathlon.
Smartly executed to spotlight the main ingredient with simple and balanced flavors, Lofaro's Hawaiian Seasonal Cuisine screams the ocean while introducing locally-grown produce. He volunteers with Boys & Girls Clubs of Maui to introduce kids to their backyard bounty and also donates proceeds from his signature salad to support Maui farmers. He meets with farmers year round and buys produce grown locally and sustainably to serve in his restaurant.
A graduate of the esteemed Culinary Institute of America (CIA) in New York, he was executive chef at Mill's Tavern in Providence, R.I. where he achieved the distinguished Forbes Four Star Award, and went on to work with famed chef Michael Mina at Aqua in San Francisco.
Lofaro and his wife Elizabeth are raising three sons and daughter near the ocean on Maui.