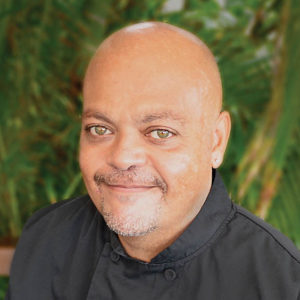 Justin Pardo
«Back to All Chefs
Biography
Chef Justin Pardo comes from an extensive culinary background with over 27 years of experience. He has worked at several notable restaurants including Verbena, Tabla, Union Square Cafe, and the Michelin rated restaurant, Daniel. Justin´s culinary passion began in New York City as he found international options of fresh produce an inspiration.
After many years honing his craft in the big apple he sought after a better quality of life with his family and left New York City in 2004. He moved across the country to Maui, Hawaii to live upcountry and plant his own garden of fresh produce. His best friend and sister joined him in opening Market Fresh Bistro in 2008. After 5 years as the banquet chef for the Grand Wailea and 9 years as the executive Chef and partner for Market
Fresh Bistro upcountry he joined Merrimans. Justin's passion for the farm to table movement made him a perfect match for Merriman's as he found the home of Hawaii regional cuisine.