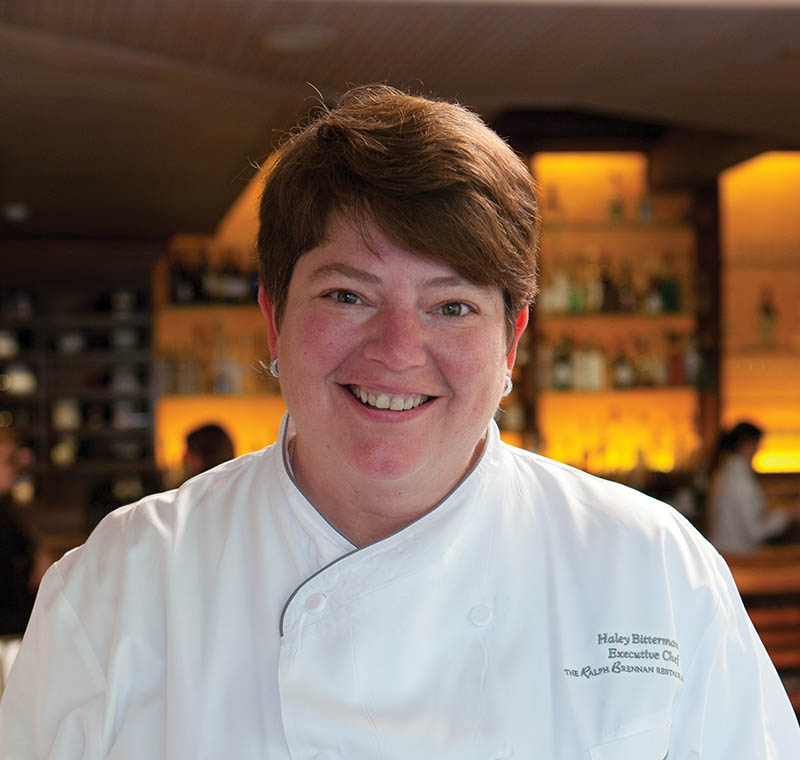 Haley Bittermann
«Back to All Chefs
Biography
A 1990 graduate of the Culinary Arts Academy of Cincinnati, an affiliate of the Culinary Institute of America, Haley first crossed paths with Ralph Brennan during a pre-graduation externship at Ralph Brennan's Mr. B's Bistro. She returned to Mr. B's after graduation to train under former longtime Executive Chef Gerard Maras, a local pioneer in incorporating regional farm-fresh ingredients into innovative culinary creations.
Just three years later in 1993, Haley was named Executive Chef at BACCO, the first woman to wear the top toque in a Brennan Family Kitchen.  "Haley's combined talent, personality, and genuine love of food preparation and foodservice have all contributed to her success at BACCO and beyond", says Ralph Brennan.
In 2000, Haley earned the title of Corporate Executive Chef of Ralph Brennan Restaurant Group.  While maintaining her BACCO Executive Chef responsibilities, Haley also worked with the culinary team at Red Fish Grill and took an active role in launching and supervising the culinary operations at Jazz Kitchen, Ralph Brennan's restaurant in the Downtown Disney District® at the Disneyland Resort® in Southern California (2001) and of Ralph's on the Park  when it launched in Mid City New Orleans in 2003.
Since June of 2005, Haley has served in a dual role as both Corporate Executive Chef and Director of Operations for Ralph Brennan Restaurant Group overseeing all aspects of restaurant operations and participating in executive oversight of same. During this tenure, Haley has launched five new businesses, including the rebirth of Brennan's on Royal Street and the transfer of Napoleon House from its longtime owners, the Impasto family, to Ralph Brennan and Ralph Brennan Restaurant Group.
Haley has cooked twice at the James Beard House in Manhattan and was selected by the Louisiana State Office of Tourism to represent Louisiana Cooking at regional, national, and international media events. Highlights were representing Louisiana at a prepared dinner at the United States Ambassador to Canada's residence in Ottawa; cooking at the Mont-Tremblent International Blues Festival; and preparing food at the Montreal International Jazz Festival, which features chefs from around the world cooking indigenous recipes.
Haley is an avid recreational angler with a personal and professional interest in sustainability and fisheries management. In 2015, Haley testified before a Congressional Subcommittee on behalf of the National Restaurant Association and the Louisiana Restaurant Association regarding fisheries management of red snapper.
Haley is married to a chef. She is the mother of a 22-year-old stepdaughter who works in the hospitality industry in private party sales and a 12-year-old son who likes to fish and eat.