FOUR SPECTACULAR TASTINGS
JUNE 4-7, 2020
2020 Kapalua Wine & Food Festival
Zoom Master Classes & Virtual Tastings
Aloha Dear Friends! Join us this week! The 2020 VIRTUAL Kapalua Wine & Food Festival will be offering four complimentary Zoom Master Classes! From June 4 to 7, we'll bring the Kapalua Wine & Food Festival to you in the comfort of your own home!
Join our Master Sommeliers to celebrate the 39th annual event in style!
ALL of these Zoom Virtual Events will be provided at no charge!
We want to make sure we are sharing our passion for wine and hospitality
with our Kapalua Wine & Food Festival friends.
*All guests are responsible for purchasing and acquiring any and all wines,
should you wish to taste along with the Masters Sommeliers during these shows.
We will provide the one-hour shows – you BYOB!
FEATURED MASTER SOMMELIERS: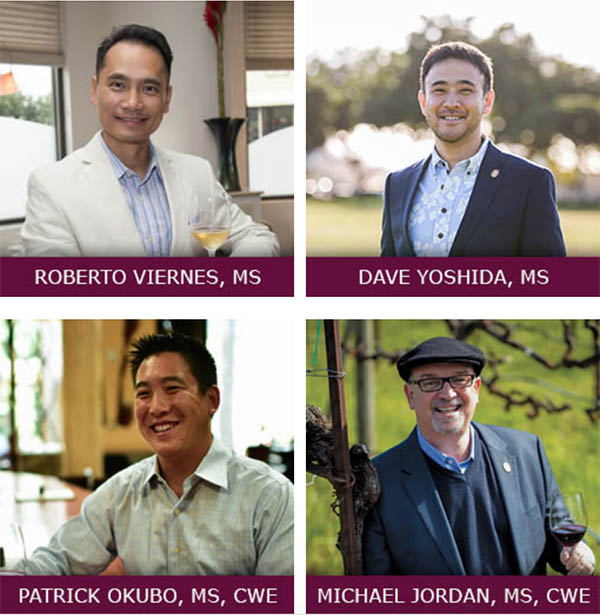 Stag's Leap 50th Anniversary Celebration
Hosted by Roberto Viernes, MS
Thursday, June 4th • 5-6pm (HST)
Join Stag's Leap Wine Cellars from the iconic Napa Valley in celebrating its 50th anniversary this year. Master Sommelier Roberto Viernes will take us on a virtual journey via Zoom to taste our world-famous wines while highlighting
the winery's storied history.
Stags Leap Wine Cellars Napa Valley featured wines:
2017 'Aveta' Sauvignon Blanc
2017 'Karia' Chardonnay
2017 'Artemis' Cabernet Sauvignon
2016 Fay Vineyard Cabernet Sauvignon
Oahu and Maui Friends – all wines are available at
Fujioka's Wine Times and Tamura's Fine Wine.
Meeting ID: 983 5315 5278 | Password: 306362
Beyond Taste: The Role of Texture in Goodness and Wine Pairing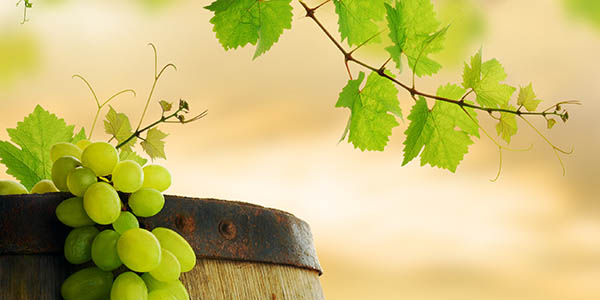 Hosted by David Yoshida, MS
Friday, June 5th • 5-6pm (HST)
Using some off the beaten path departure points, Chenin Blanc, Assyrtiko from the Greek island of Santorini and Champagne, we will be sharing some secrets on the role of wine textures in creating a next level food and wine pairing. Also catch some great pointers on how to make the perfect Gruyere soufflé in your home kitchen!
Featured Pairing Wines:
2018 Champalou Vouvray
2018 Santo Assyrtiko Santorini
NV Charles Heidsieck Brut Reserve Champagne
Oahu Friends – all wines are available at Fujioka's Wine Times
Meeting ID: 916 0737 3419 | Password: 332954
Hosted by Patrick Okubo, MS, CWE
Saturday, June 6th • 5-6pm (HST)
A tour around different regions throughout Bordeaux making some of
the greatest Merlot and Cabernet Sauvignon in the world!
Featured Bordeaux Wines:
Chateau Recougne, Bordeaux Superieur
Chateau Boutisse, St. Emilion Grand Cru
Chateau Picque Caillou, Pessac-Leognan
Chapelle de Meyney, St Estephe
Chateau Lalande, St. Julien
Oahu Friends – all wines are available at Tamura's Waialae.
You can also say to contact Patrick at thewinegi@gmail.com if you'd
like to do wine sharing so you can have a little bit of all of the wines.
Meeting ID: 932 4460 6042 | Password: 865858
Bacchus Loves The Hillsides:
The Ridges and Valleys of Sonoma County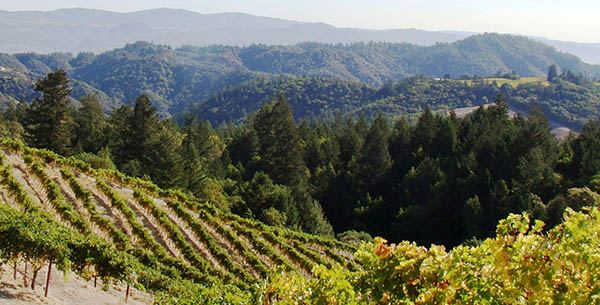 Hosted by Michael Jordan, MS, CWE
Sunday, June 7th • 5-6pm (HST)
Join "Sommelier for the People" Michael Jordan for a Virtual Tasting Adventure
through some of the many beautiful ridges and valleys that lie in Sonoma County.
A scenic and delicious journey through California's wine country!
Featured Sonoma Wines:
Matanzas Creek, Sauvignon Blanc, Sonoma County
Hartford Court, Chardonnay, Russian River Valley
Copain, "Tous Ensemble" Pinot Noir, Sonoma Coast
Arrowood, Cabernet Sauvignon, Knights Valley
Oahu and Maui Friends – all wines are available at
Fujioka's Wine Times and Tamura's Fine Wine.
Save the date for June 10-13, 2021
We hope you will enjoy all four of these fun and informational Zoom Seminars!
You can buy the wines in advance and taste along
with us – or drink what you have!
We miss you all this year and look forward to celebration the 40th annual
Festival next year together on Maui. Mark your calendars!
Stay updated at www.kapaluawineandfood.com