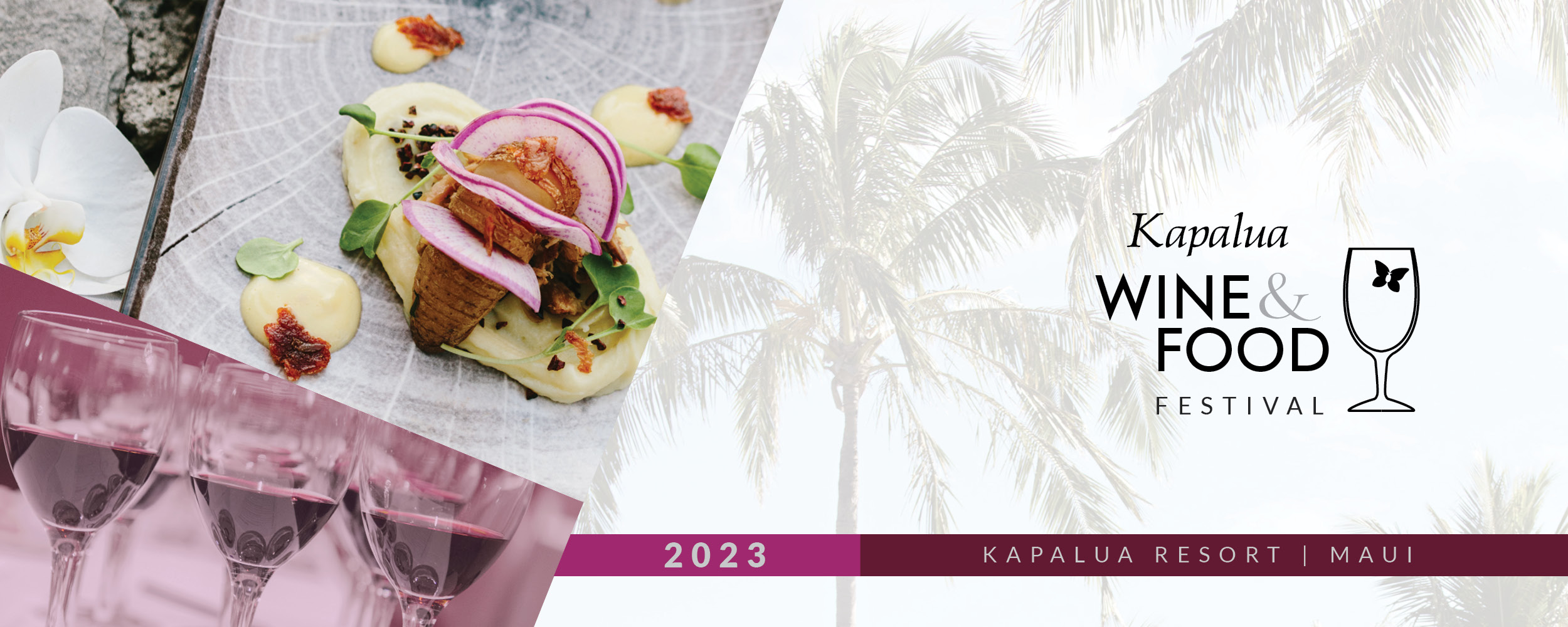 2023 GRAND TASTING CHEFS
and PARTICIPANTS
Check back for updates.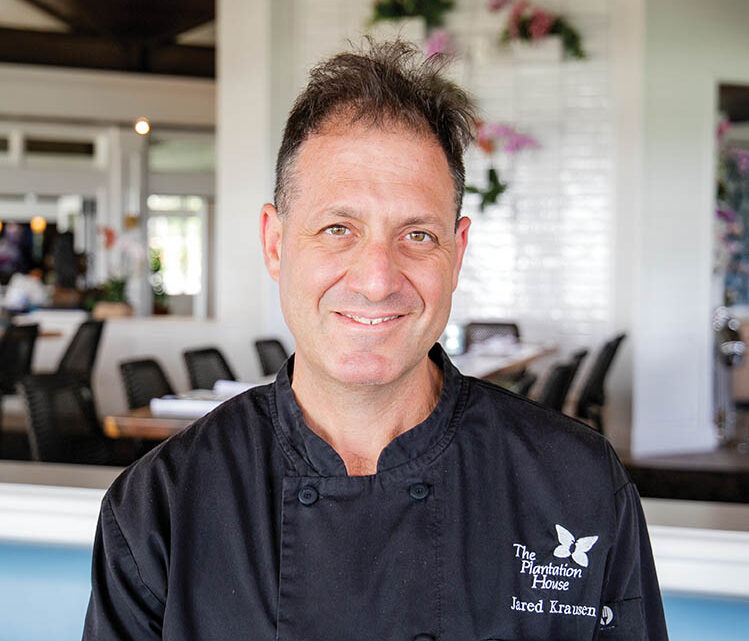 Jared KRAusen

The Plantation House

More Info
Executive Chef Jared Krausen
Chef Bio
 After 25 years of living on Maui, Chef Jared Krausen has become a master of Island-Cuisine.
 Born and raised in Southern California, Krausen quickly made the hop over from the mainland to Maui in 1997 right after graduating from the University of Santa Cruz. He began his culinary career with the established T S Restaurant Group, working his way up from entry-level kitchen positions at Maui hot spots such as Kimo's and Leilani's.
 In 2002, Chef Jared was hired as a Lead Chef at the Ritz Carlton-Kapalua where he helped oversee all of the resort's food outlets and took on a leadership role in the resort's Banquet Kitchen executing high volume events. After 8 years at The Ritz, Chef Jared was appointed Sous Chef at Umalu Restaurant at the Hyatt Regency Maui. He led all aspects of the all-day dining locations, serving over 1,000 covers daily including in-room dining and poolside service.
 In 2015, Krausen became Senior Executive Sous Chef at the famous Royal Lahaina Resort in Maui. He oversaw the Royal Ocean Terrae Restaurant and additionally executed over 300 weddings, 100 banquets and 20+ off-site events annually. During the Covid-19 pandemic in 2020, Chef Jared assisted in reopening the resort's culinary department and navigated challenges such as product shortages and lack of staff.
 Chef Jared was named Executive Chef of Kapalua's renowned Plantation House Restaurant in February 2021. He currently oversees for all heart-of-house operations, including but not limited to creating seasonal menus, sourcing fresh local product and executing for weddings, corporate gatherings and golf events with on-site partner Troon Golf.
 There is no denying Chef Jared's passion for being in the kitchen. He thrives on presenting the highest quality product, whether it be for an intimate date night for 2 or a 300 Guest wedding. In addition to sourcing the freshest ingredients for his dishes, Chef's favorite aspect of being in the kitchen is being able to mentor his Heart-of-House Team. "I believe the only way to grow as a chef is to make a lot of mistakes and learn from them," Krausen says. "Being in the kitchen is all about being thrown curveballs, you have to be ready for anything and use every experience as a way to improve your skills."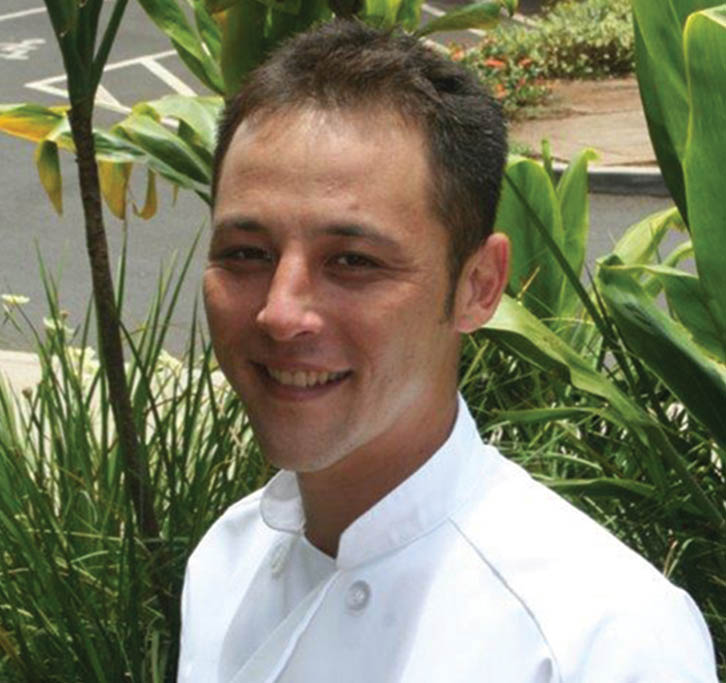 Micah Honma

Sansei Seafood Restaurant
& Sushi Bar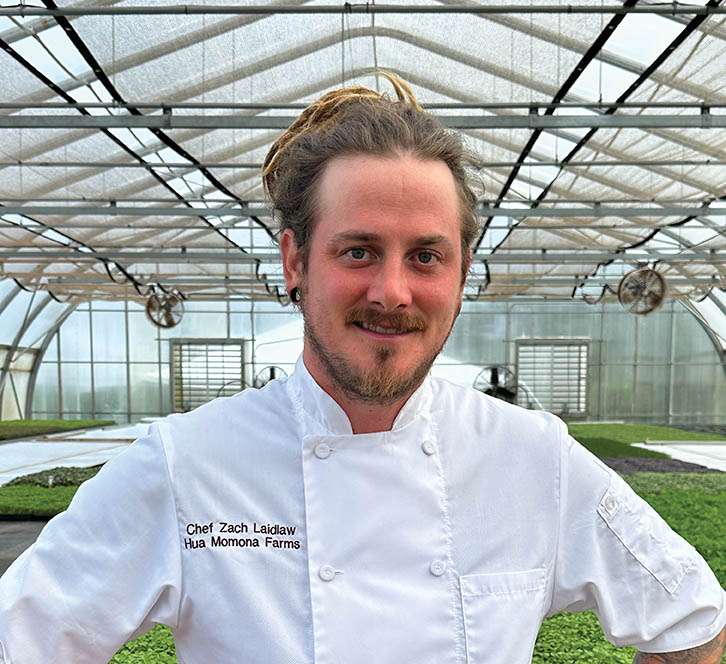 Zach Laidlaw
Hua Momona Farms
More Info
Zach Laidlaw, an internationally accomplished culinary mavin, was raised in the small town of Burlington, Illinois. He started in the industry as a dishwasher at the young age of 13. At age 16 he started cooking and quickly soon realized his passion and creativity would be endless in this profession. With a degree in both Culinary Arts & Hospitality Restaurant Management, Zach quickly stood out with his culinary talent taking him around the world cooking and managing. From all parts of Chicago, to catering weddings on yachts in South Beach Miami, followed by opening a restaurant on Tortola (British Virgin Islands), onto Australia and then here in Maui. Maui is where he landed the Chef de Cuisine position at Fleetwood's on Front St. for two years. In January 2019, Zach took a step out of the kitchen life to further his knowledge of local agriculture practices, understanding the why's and how's of growing and maintaining self-sustainability. As a founder of Hua Momona Farms, LLC, Zach began farming organically furthering his expertise in a new culinary realm. Combining his passion for growing and creating memorable experiences, Executive Chef Zach Laidlaw, in conjunction with the Hua Momona Foundation, will be curating true farm to table tours showcasing his talent through coursed out tasting menus. These tours will benefit the Hua Momona Foundation which includes assisting families on Maui with food insecurity while also provided opportunities for youth in agriculture programming.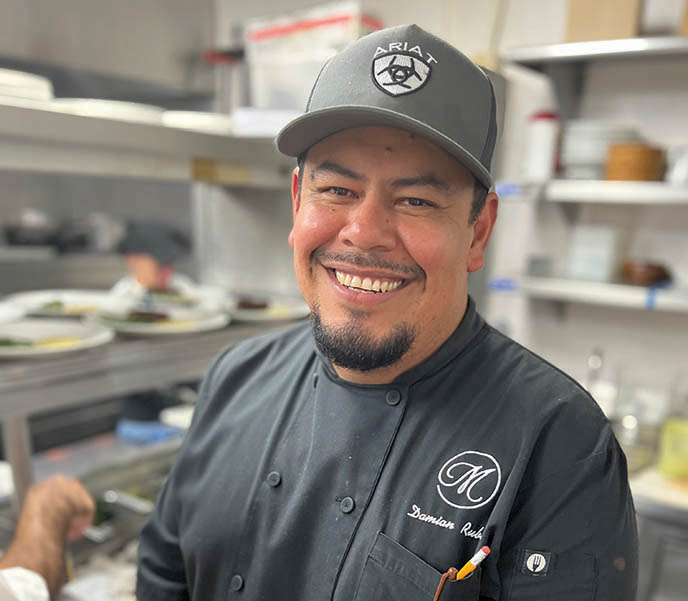 Damian Rubio
Merriman's Kapalua
View Bio
With almost two decades of culinary experience, Mexico native, Damian Rubio is described as having one of the most contagious attitudes in any kitchen. His food philosophy is to source the best local produce and stay true to it. One of our Vital Few at Merriman's is to "Buy the Best Olive," meaning to always invest in the best and let the flavors shine.
Chef Rubio is passionate about cooking and people. This dedicated self-taught culinarian worked his way up from a prep cook all the way to Executive Chef in only 16 years.
Chef Rubio was invited by his only sister to move to Maui 17 years ago and jumped at the chance. He brought his family who he says inspires him every day to be the best. Maui, much like his home in Tepic, Mexico, also farmed sugar cane and various tropical crops which made him feel right at home.
Starting as a prep cook in 2007 at Pineapple Grill, he caught on fast with an exceptional eye for detail. Hired on at Merriman's in 2010 his personality and passion shined bright in the kitchen as he mastered every station. Given the opportunity to work under several well-seasoned chefs provided him hands-on education and training. Chef Rubio is most honored to have trained under Merriman's Corporate Chef, Neil Murphy, for a decade, who he says was his #1 mentor. Chef Rubio continued to advance at Merriman's landing the position as Chef De Cuisine for 6 years until he beat out several applicants for Executive Chef of Merriman's Kapalua, Maui in 2021.
His stellar attitude and leadership skills have created a great team who work well together as a family with genuine love and pride in what they do. "I love to share what I've learned with others and working with such a professional team with high quality standards is really a blessing!"
Chef Rubio genuinely feels lucky to live Maui enjoying his time off with family and embracing the Hawaiian culture. He truly loves the island's energy.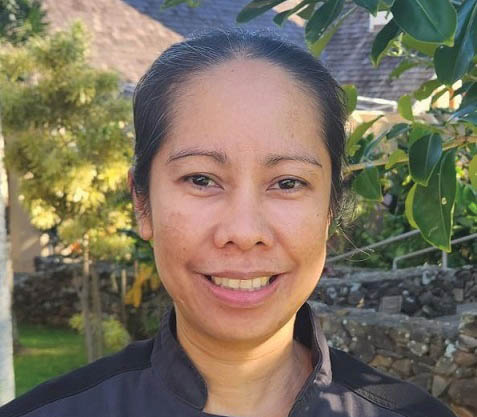 Maribel Rumbaoa
Honolua Store

View Bio
Since 2012, Honolua Store (ABC Stores) has blessed me with opportunities to express through food development and being able to stay creative and innovative. Being that I'm influenced heavily from my Filipino culture, I am able to create dishes catered to many local clientele and intrigue visitors to try our local/Filipino cuisine. Honolua Store being a popular landmark in Kapalua, I am truly happy to serve customers in a historical favorite spot for locals and visitors alike for over 10 years.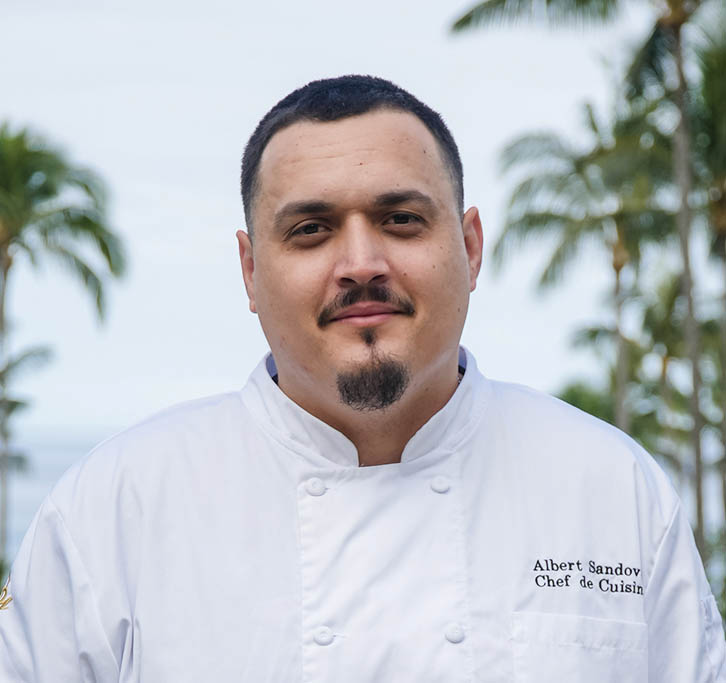 Albert Sandoval
Cane & Canoe

View Bio
Albert Sandoval
Chef de Cuisine, Cane & Canoe – Montage Kapalua Bay
Albert Sandoval, a 16-year culinary veteran, joins Montage Kapalua Bay as chef de cuisine of Cane & Canoe, the signature dining experience celebrating modern Hawaiian cuisine and local culinary influences from his executive chef position at Carpe Diem in Napa Valley. Spearheading a new post, Sandoval oversees menu creation, kitchen inventory, and culinary operations at the award-winning restaurant whose design is reminiscent of a traditional Hawaiian canoe house.
Before his role at Carpe Diem, Sandoval was assistant executive chef of Napkins Bar and Grill, where he cooked farm-to-fork cuisine for an average of 800 covers a day. His many previous assignments were all in California, including beverage director and executive chef of Vine 18, an Italian cucina located at The Golf Club at Copper Valley; executive chef and banquet chef of La Provence in Roseville; and restaurant chef of Margaret's Café & Bakery, a 24-hour comfort food favorite at Jackson Rancheria Casino Resort in Jackson. He got his start in kitchen management at Foster's Bighorn, a long-running, locally-owned tavern in Rio Vista, where he assumed the role of head chef to satisfy his hunger for a challenge.
Originally from Sacramento, Sandoval grew up in nearby Galt and earned an Associate's Degree in Culinary Arts from San Joaquin Delta College in Stockton. After developing a love for food and cooking from his mother, whom he hails as "a very good cook," Sandoval began cooking for friends and family at age 16, got his first job prepping in a local pizzeria, and never looked back.
"The kitchen is still a source of daily inspiration and constant learning for me," he says. "The culinary profession has so much to offer, and with so many new things to master, it's exciting every day."
Apart from dazzling guests and locals at Cane & Canoe, Sandoval enjoys discovering the beauty and culture of Hawaii with his two young sons and gathering with family for outdoor cookouts, basketball, hiking and bowling.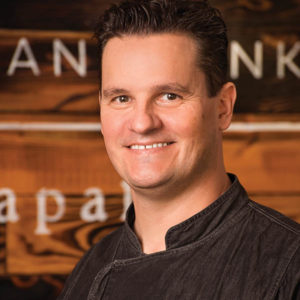 More Info
In his work and travels around the world, Chef Roger Stettler has
excelled in many types of cuisine, from Korean to Caribbean. But to
create the menu for Taverna Italian Eatery, he's thrilled to return to
his European heritage. Born in Bern, Switzerland, Chef Roger was
inspired by his Italian mother and classically trained in French
cooking. He earned a chef degree after completing the apprenticeship
program at Switzerland's prestigious Hotel Kulm Arosa and went on to
serve as Executive Chef in five-star hotels in Thailand, Singapore and
the Virgin Islands. In 2004, the same year he was given his Certified
Master Chef degree by the Swiss government, Chef Roger arrived on
Maui. At the Four Seasons Resort Maui in Wailea, he launched a 10-year
career as Executive Chef that brought him well-deserved recognition.
In 2012, he was named "Chef of the Year" by Maui No Ka 'Oi Magazine
and given Maui Culinary Academy's highest honor as a "Culinary Arts
Ambassador" for his tireless work with students. Chef Roger's
dedication to the community includes his goal to source local
ingredients whenever possible. His homey Italian menu is a big part of
why Taverna provides such a warm and welcoming environment for both
Maui residents and visitors.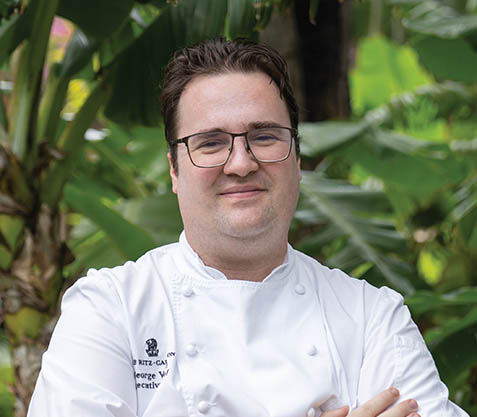 George Vanyi

Executive Chef
The Ritz-Carlton Maui, Kapalua
More Info
George Vanyi
Executive Chef
The Ritz-Carlton Maui, Kapalua
Born and raised in Toronto, Chef George has many years of experience in first-class establishments. He is a dedicated culinary professional with extensive experience and is known for producing top-quality, creative delicacies. Chef George has always been enlightened with how different backgrounds can complement one another. He has knowledge and experience in a variety of cuisines from both East and West Toronto, Macau, Thailand to China.
Chef George assisted in the pre-opening of both The Ritz-Carlton Hotel and JW Marriott Macau. During this time, he demonstrated strong management skills, experience and leadership in the pre-opening of these large dual-brand properties.
By the end of 2016, Chef George joined The Ritz-Carlton Beijing, Financial Street as the Executive Sous Chef. Infusing the advantage of his bold knowledge in assorted cuisines into his formal classical training, Chef George provided the guests with creative delicacies and memorable experiences.
In 2018, Chef George was promoted to Executive Chef. Dedicated to the development of The Ritz-Carlton, Chef George is committed to sourcing vibrant local ingredients, and weaving influences from around the world into creative delicacies that celebrate the diverse cultures.
He relocated to Maui in 2022 to join the Ladies and Gentlemen at The Ritz-Carlton Maui, Kapalua, and resides with his wife in Lahaina, Maui.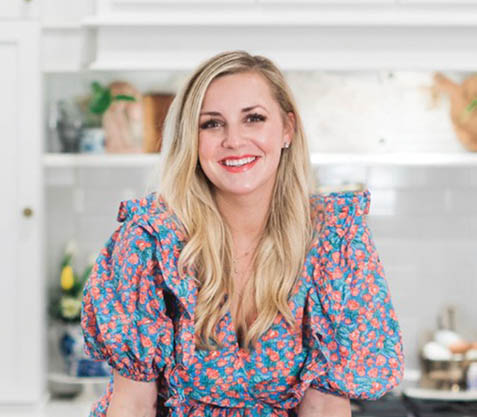 Kelsey Barnard Clark
Top Chef Alumni
KBC
View Bio
Chef Kelsey Barnard Clark Bio
Kelsey Barnard Clark is a born and raised Gulf Southerner from Dothan, Alabama. She has developed an impressive resume including being the fifth woman and first southerner to win the title of Bravo's "Top Chef" and was also voted fan favorite following her season 16 win.
Kelsey got her start in the food industry working for a high-end caterer and catered her first solo wedding at age 15. After graduating from the Culinary Institute of America, she worked savory & pastry in several Michelin-star restaurants in New York City, including Café Boulud under Gavin Kaysen, and Dovetail under John Fraser. Her signature southern-French cuisine is inspired by family recipes and classic French techniques. In 2012 Kelsey moved back home to open her catering company, Kelsey Barnard Catering. Today, she runs her catering company and restaurant, KBC, in historic downtown Dothan while also teaching virtual classes, taking her chef talents on the road, and appearing and cooking at events as often as possible. In August 2021, her debut cookbook "Southern Grit" hit shelves.
In addition to being known for her skills in the kitchen, Kelsey is also an avid gardener, is passionate about all things interior design, and is a devoted wife, and mom to two young children – Monroe and Evelyn June – and their two dogs, 15 chickens and 1 cat. When not running her namesake restaurant, she can be found tending to her backyard garden and chicken coup; arranging flowers for her home and restaurant; crabbing and boating from their beach bungalow; cooking at home with her kids and husband; or laying out a spread for friends and family in her restored 1940's Dothan home. Kelsey loves to play host, no matter what the occasion, and recently signed a two-book deal with Chronicle pegged to entertaining, due out in 2024.
Kelsey shares her passion for cooking, teaching, and hospitality on her instagram @kelseybarnardclark.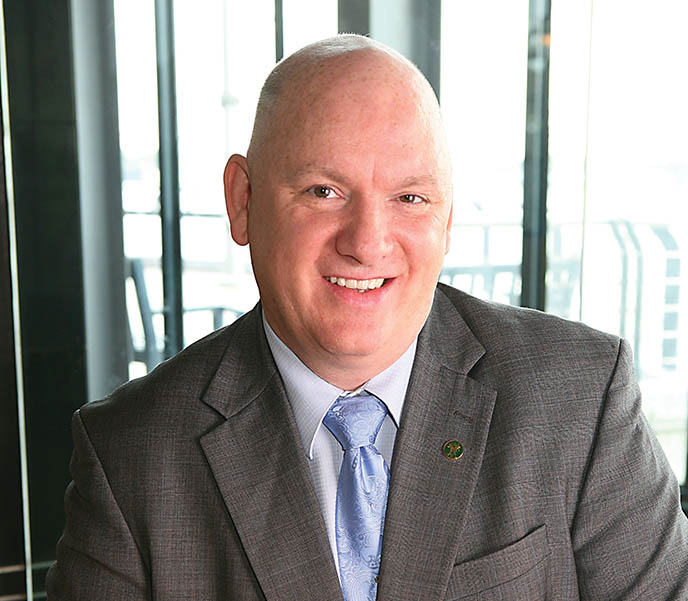 Bobby Gleason
Mixologist – Beam/Suntory
View Bio
Bobby Gleason
Passionate Generosity
Master mixologist, Bobby Gleason is a legend even outside of the fact that he was in the Guinness Book of World Records in 2008 for most cocktails made in an hour (253 different individual drinks!) He scoffs at his icon status, but Bobby G has been a leader in the spirits industry long enough to have seen hospitality and cocktail culture evolve and change in many ways, yet his core beliefs have remained the same. Training, community, and passion for the work make bartending not just a job, but a calling.
The foundation of Bobby's career was laid in the early '80s as a nightclub bartender in Vegas and Miami and then cemented as he opened casinos including The Mirage, Treasure Island, and the trendsetting Bellagio in the '90s. He had found his vocation. His knowledge and understanding of spirits, flavor, and an encyclopedic memory for cocktails made him one of the most sought-after drink-slingers and consultants on the Strip. He worked with a variety of brands and venues before landing with Jim Beam, now Beam Suntory in 2006. His roots in mixology and his deep commitment to sharing his wisdom with the trade and consumers alike propelled his success as the Senior Portfolio Ambassador.
With too many awards, media appearances, and certificates to count, if you ask Bobby G what his most important legacy is he would say: being a founding council member for the USBG NV Chapter. Fostering community, education, and mentorship within the service industry is at the heart of everything Bobby does, and where he finds inspiration to keep learning himself.  He also believes entertainment is a key element to bartending, learning, and teaching, which didn't always come naturally.
"When I'm behind a bar, I'm totally different.  There's something about having that bar in between you that brings out a different personality in me. I was a quiet kid, I would never get up in front of a group, but now, I relish it, I have so much I want to share."
Bobby spends the bulk of his time traveling the world, bringing his singular style to masterclasses and conferences of all stripes, expressing his love of spirits and service with some old friends and many new recruits. If you find him back at home in Las Vegas, Bobby is probably expanding his art collection (ask him about his Dali!) or maybe even attempting to write some of his experiences down. The stories he could tell…and will. Order a cocktail and ask him anything. He can't wait to share.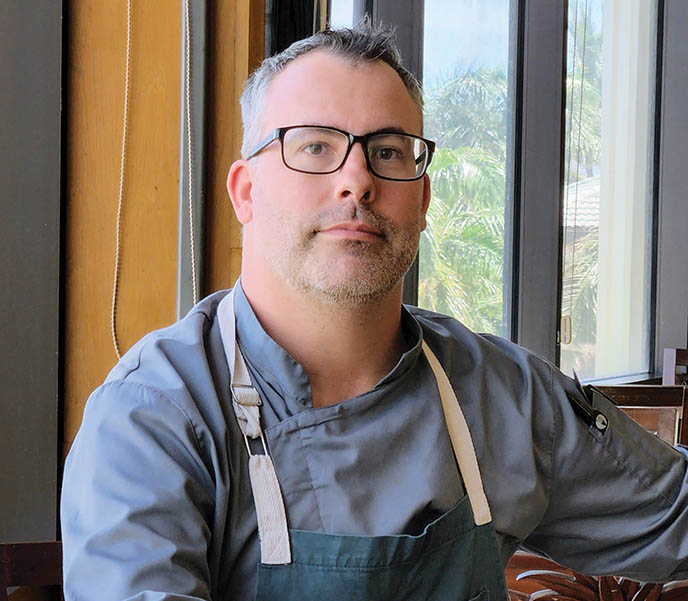 Gary Johnson
UHMC Culinary Arts Program
View Bio
Gary Johnson grew up outside of Fort Worth, Texas and received a culinary degree at Le Cordon Bleu Dallas. His experience in restaurants started in the late 90's, ranging from both a chef and front of house manager throughout Arizona, Colorado, and Texas before moving to Hawai'i in 2010. Since his time on Maui, Gary has worked in several award-winning restaurants such as Capsiche, Ka'ana Kitchen at the Andaz, and Hana Ranch Provisions. Through his Maui experience he has created lasting relationships with Maui's local farmers, fisherman, ranchers, and food community. Gary enjoys spending time with this wife Audra and their daughters Isley & Hayden, lounging at the beach, or playing/watching basketball.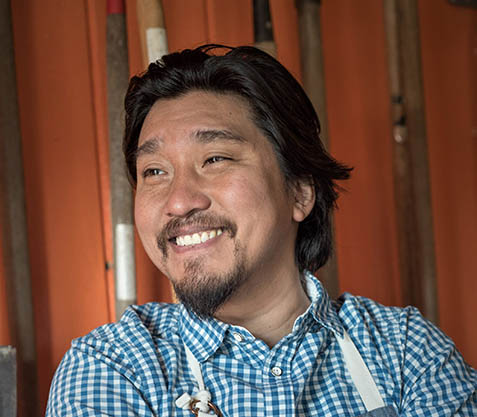 Edward Lee
Top Chef Alumni
610 Magnolia

More Info
Chef Edward Lee
Chef
Edward Lee is the Chef of Nami, his newest concept located in Louisville, KY, as well as at 610 Magnolia, also in Louisville. Additionally, he is the Culinary Director for Succotash Prime in Wash-ington, DC and Succotash in National Harbor, MD. Beyond his roles in the kitchen, he is the Co-Founder and Creative Director of The LEE Initiative, a non-profit dedicated to increasing diversity and equality in the restaurant industry.
Consistently applauded for his work in the industry, Chef Lee was the recipient of the 2019 James Beard Foundation Award for his book, Buttermilk Graffiti: A Chef's Journey to Discover America's New Melting Pot Cuisine, which followed the success of his first book, Smoke & Pick-les (Artisan Books, May 2013), a national bestseller. Other accolades include being a six-time finalist for the James Beard Foundation Award for Best Chef: Southeast; in 2018 Food & Wine Magazine named 610 Magnolia one of the country's most important restaurants of the past 40 years; and in 2019, The Michelin Guide DC awarded Succotash a Bib Gourmand. Additionally, Chef Lee appears frequently in print and on television – his writing has been featured in The New York Times, Esquire, Food & Wine, and many other national publications; he was nominated for a daytime Emmy for his role as host of the Emmy-winning series, Mind of Chef on PBS; and has hosted and written a feature documentary called Fermented.
In 2017, Chef Lee launched The LEE Initiative, which operates several programs under its um-brella including the Women Culinary and Spirits Program, Restaurant Workers Relief Program, Restaurant Reboot Relief Program, and McAtee Community and Training Kitchen. During the pandemic, The LEE Initiative distributed over 2 million meals, invested $1.5 million in small farms, and gave over $1 million in grants to Black-owned food businesses across the country. In recognition of his ongoing efforts to better the hospitality industry, Chef Lee was awarded the Muhammad Ali Humanitarian Award in 2021.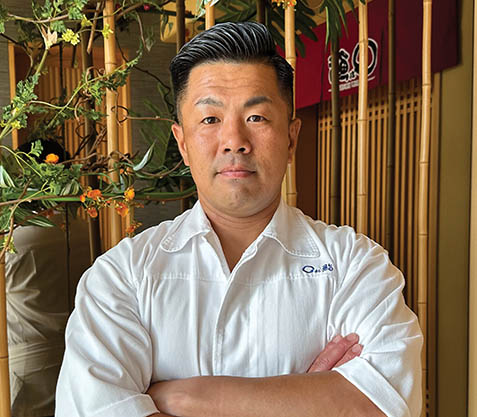 Tsukasa Okino
Maru Sushi Hawaii
View Bio
Chef Tsukasa Okino was born in Shizuoka, Japan.
 He entered the culinary world at age 15, learning from his father, who was a cook. After more than 20 years of honing his skills at various Japanese food and sushi restaurants in Tokyo, he relocated to Honolulu, Hawaii in 2016.
 Eventually, he met the team at Maru Sushi Hawaii, where he now serves as executive chef. Chef Tsukasa hopes to share his culture through elegant presentations of sushi prepared with the finest ingredients from Japan. The traditional sushi bar specializes in omakase, or chef's choice menus.
 Maru Sushi Hawaii is the sister restaurant of Maru Sushi in Sapporo, Japan, which holds a Michelin star.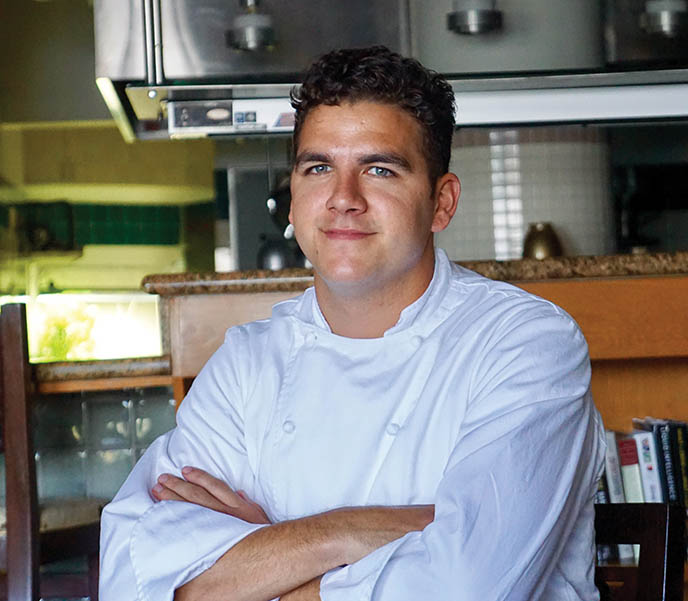 Taylor Ponte
UHMC Culinary Arts Program
View Bio
A graduate of the Maui Culinary Academy, Chef Ponte works primarily in American cuisine; combining techniques and flavor profiles from around the world.
Born and raised working the farmlands of Makawao, Hawaii led him to have an appreciation for the land, fresh produce and livestock. His career has led him to inspire menus using whole animals and charcuterie; handmade pastas and artisan breads with produce and seafood supplied by local farmers and fishermen. Chef Ponte was Awarded Maui No Ka Oi Magazine Aipono Awards 2020/2022 Chef of the Year.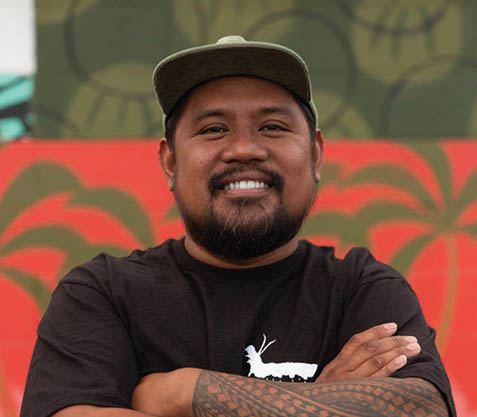 Sheldon Simeon
Top Chef Alumni
Tiffany's and Tin Roof
View Bio
Chef Sheldon Simeon
Born in Hilo, on the Big Island, Sheldon acquired his love for cooking from his parents. His path led from Hilo High to the Culinary Institute of the Pacific, onto an internship at Walt Disney World. Upon returning to Hawaii, Sheldon attended Maui Culinary Academy. Sheldon competed in the 10th season of Bravo Network's Top Chef: Seattle, making it to the finals, and winning Fan Favorite.  He returned to the show again in 2017 for season 14: Charleston, once again winning Fan Favorite.  In 2016, Sheldon opened up his very first solo restaurant, Tin Roof, in Kahului, Maui, where he serves up local dishes in take-out bowls.  Sheldon's food is a playful take on classic local dishes, including a variety of poke, kau kau tins, sandwiches, noodles and more.  His mix of innovative modern cuisine and adherence to tradition, influence his dishes and help shape his menus.  His growing legion of loyal fans will attest to his award winning creativity and palate.
In Fall 2018, Sheldon opened Lineage, his second solo restaurant and full service concept delighting guests with traditional local Hawaii fare in Wailea, Maui. In 2019, Lineage was named a James Beard Award semifinalist for "Best New Restaurant." In 2020, Sheldon left Lineage to focus on writing his first cookbook, Cook Real Hawai'i, which came out in the Spring of 2021 from Clarkson Potter. Cook Real Hawai'i showcases 100 recipes that embody the culturally diverse flavors of the islands, and has been celebrated by the likes of The New York Times, The Washington Post, NPR, The New Yorker, Bon Appetit, Vice Munchies, Serious Eats, Robb Report and more. In 2022, Sheldon became a short-listed nominee for Best Chef Northwest & Pacific by the James Beard Foundation, and is currently up for the same award again this year (2023).
In July of the same year, Sheldon and his wife Janice, took over Hawai'i mainstay Tiffany's restaurant, adding to their portfolio and continuing to showcase the authentic flavors of his homeland to a global audience.  Sheldon has appeared on such national TV shows as Today Show, Good Morning America, CBS Saturday Morning, Access Daily, E! Daily Pop, Hallmark Home & Family, The Globe, Gordon Ramsey's Uncharted, CNN's Parts Unknown, and even had his own 4-season video series on Eater, titled "Cooking in America."
Sheldon resides in Maui with his wife Janice and their four children.
Chef Sheldon's Awards and Accolades:
2023 James Beard Semi-Finalist, Best Chef: Northwest & Pacific

2022 James Beard Finalist, Best Chef: Northwest & Pacific

2019 James Beard Semifinalist, Best New Restaurant

2019 Hale 'Aina Award for Best New Restaurant (Reader's Choice Gold)

2019 Hale 'Aina Award for Best Maui Restaurant (Finalist)

2019 Maui Time's Best New Restaurant

2019 Maui Time's Best Chef

2019 Maui Time's Best Bar (Lineage)

2019 Maui Time's Best Cheap Eats (Tin Roof)

2016-17 Season 14 "Top Chef" Charleston, Fan Favorite

2015 Hawaii Magazine's Top 5 Best Hawaiian Chefs

2015 Hawaii Magazine's Best Hawaiian Restaurant "MiGRANT"

2014 Hawaii Magazine's Top 5 Best Hawaiian Chefs

2014 FOOD & WINE Magazine's 2014 People's Best New Chef for the Pacific & Northwest

2014 Best Chef and Best New Restaurant, 2014 Maui Time Readers Poll

2013 Maui No Ka Oi Magazine Aipono Awards Chef of the Year (vote by other chefs)

2013 Maui News Best of Maui: Maui's Best Chef

2012-13 Season 10 "Top Chef" Seattle, Finalist, Fan Favorite

2012 Food & Wine Magazine's People's Choice Best New Chef for the Pacific & Northwest

2012 Two James Beard Award nominations for Rising Star Chef of the Year and Best New Restaurant

2012 Starchefs.com Hawaii Rising Star Concept Chef

2011 Maui No Ka Oi Magazine Aipono Awards Chef of the Year
More partners & participants