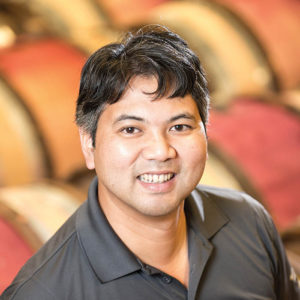 Jeff Mangahas
Williams Selyem
«Back to All Panelists
Biography
Jeff's inquisitive mind and thoughtful approach to winemaking are just two of the many reasons he's the ideal leader to shepherd the Williams Selyem wine program into the future. As a young man, he was consumed with why the wines taste the way they do.
His desire to discover the "why" was more than passing curiosity, and he left his career as a medical research scientist to enroll in the Winemaking program and the University of California at Davis.
After obtaining his Masters of Science in Enology, Jeff delved into his first harvest at Artesa Vineyards. Soon after, he was appointed Assistant Winemaker at Dutton-Goldfield. From there, he assumed the role of Winemaker at Hartford Family Winery, specializing in Pinot Noir from the Russian River Valley and Sonoma Coast appellations.
As Winemaker at Williams Selyem, Jeff is still asking "why," and he's coupled this intriguing question with another: "How do we coax the ultimate expression out of each vintage?"
Precision is key to his process, and it's a mindset that not only comes naturally to Jeff, but one that he has continually perfected through persistent study, meticulous attention to detail and enthusiastic pursuit of excellence. If you're ever lucky enough to be invited, Jeff will be delighted to explain why Williams Selyem wines continue to earn their place in the hearts of wine lovers around the world. If anyone knows, he does.