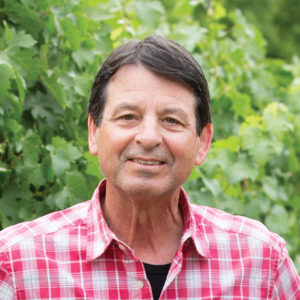 Doug Hill
Hill Family Vineyards
«Back to All Panelists
Biography
Doug Hill has nearly four decades of experience in the development and management of vineyards in Napa and Sonoma counties. As president of Oak Knoll Farming Corporation, he currently manages over 700 acres of vineyards, cultivating premium cabernet sauvignon, merlot, pinot noir and other varietals for notable wineries including Silver Oak, Ramey, and Duckhorn. Doug also farms 120 acres of his own vineyards, much of which is utilized for the wine label he owns and manages alongside his family, Hill Family Estate.
Growing up in Healdsburg on the family farm instilled Doug with work ethic, reverence for nature and a spirit of optimism. After earning a degree in Plant Sciences at Cal State Fresno and traveling extensively in Latin America, Doug returned home to Sonoma County in 1978 to learn the art of vineyard management while employed by Sonoma-Cutrer. After settling in Yountville, Doug managed the extensive holdings of the Jaeger family before starting Oak Knoll Farming. His long tenure in Napa has familiarized him with the Valley's microclimates and soils, enabling him to pioneer new varietals and growing regions; Doug planted the first vineyards in American Canyon and brought the first Albarino to Napa Valley.
As a third generation California farmer, Doug is experienced in finding practical solutions to the challenges that arise in vineyard development projects, and strives to utilize environmentally conscious land management practices.