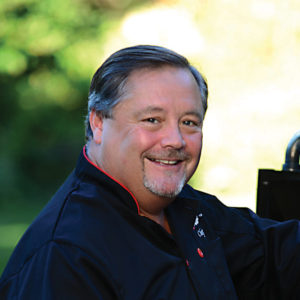 Michael Garaghty
«Back to All Chefs
Biography
Originally from Warwick, Rhode Island, Chef Mike moved to the Minneapolis area where he began his career on the ground floor, working as a line cook. It was there that he discovered this was more than just a job for him, as he fell in love with food and the culinary industry. He enjoyed the fast pace, teamwork, and of course the joy of creating fine food.
Chef Mike then moved into a Sous Chef position at a Minneapolis hotel. This is where he honed his skills under the watchful eye of the Executive Chef, who was also a former culinary instructor. Eventually, Chef Mike became the Executive Chef, taking the reins from his mentor. From there, he continued his career leading the kitchens of various establishments, including his own full-service catering company, A Call to Catering, which he sold in 2011 to join the WÜSTHOF team.
During his earlier years of training, Chef Mike discovered WÜSTHOF knives, and as with many other accomplished chefs, he quickly became an avid user and enthusiastic brand ambassador, recom-mending WÜSTHOF to aspiring chefs and home cooks.
Chef Mike is currently the Executive Chef of Wüsthof-Trident of America, Inc. presiding and appear-ing in WÜSTHOF-sponsored television segments, retail events, cooking videos, social media initia-tives, trade shows, consumer food festivals, and other elements of the brand's sales and marketing campaigns.