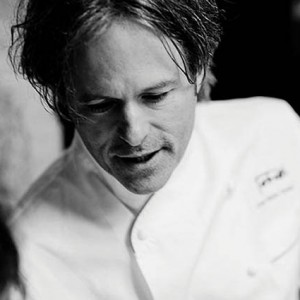 Mark Tarbell
«Back to All Chefs
Biography
Mark studied in Paris at the l'Academie du Vin and earned a Grande Diplôme d'Etude Culinaire from Ecole du Cuisine La Varenne.  After stagieres at Michelin one-star Michel Pasquet and Willy's Wine Bar in Paris, Mark followed his earliest dream (to open a wine bar) by working as Sous Chef at Vintage Wine Bar and Restaurant in Cambridge MA. At the same time he taught courses on French wine at the International Wine School in Cambridge and at the University of New Hampshire. He also worked at Wildflower Bakery in Boston before moving to Utah and to the front of the house as a manager at the Deer Valley Resorts Café Mariposa. At 23, Mark moved to Arizona and The Boulders Resort in Carefree, where he was the youngest Food & Beverage Director of any Five Diamond property in the world.
In 1994 Mark opened Tarbell's Restaurant, with The Oven in Colorado following in 2004, The Wine Store in 2013, and The Tavern in 2014. He has been recognized with multiple awards including a two-time induction to The Arizona Hall of Culinary Fame (as Chef and as Media Master) and being nominated for "Best Chef – Southwest" by the James Beard Foundation. He and his restaurants have earned more than 50 city and industry awards, including a "Best Restaurant" from Food and Wine magazine.
Mark's frequent television time includes being the only winning challenger on the 5th season of "Iron Chef America", and appearing on other Food Network, Fox, Lifetime, ABC, and local programs. He has been the weekly wine columnist for the Arizona Republic since 2004 and a judge at the Los Angeles International Wine & Spirits competition (the largest and oldest in the country) for 18 years.  He has been published in numerous local and national magazines including Wine & Spirits, Food Arts, Desert Living, and Arizona Foothills.  He is a contributing author to Celebrity Chefs Across America by Anthony Dias Blue and Healthy Hearts for Dummies by James M. Rippe, M.D., and developed and wrote the recipes for Chris Carmichael's Fitness Cookbook by Lance Armstrong's trainer Chris Carmichael.
Mark has been a panelist or chef presenter at a number of Aspen Food and Wine Classics, and spoken at high schools, colleges, and industry events including the International Hotel/Restaurant Show in NYC with Ella Brennan.  He serves on many different Advisory Councils and Boards, from the Arizona Department of Education to the Phoenix Art Museum.  He contributes to and has cooked for hundreds of charities through the years.  He has lent his services as a chef and wine connoisseur to raise significant funds at events such as the International Taste of Tennis for Juvenile Diabetes, Culinary Evening with the California Winemasters for the Cystic Fibrosis Foundation, Humane USA for the Humane Society, and dozens more.