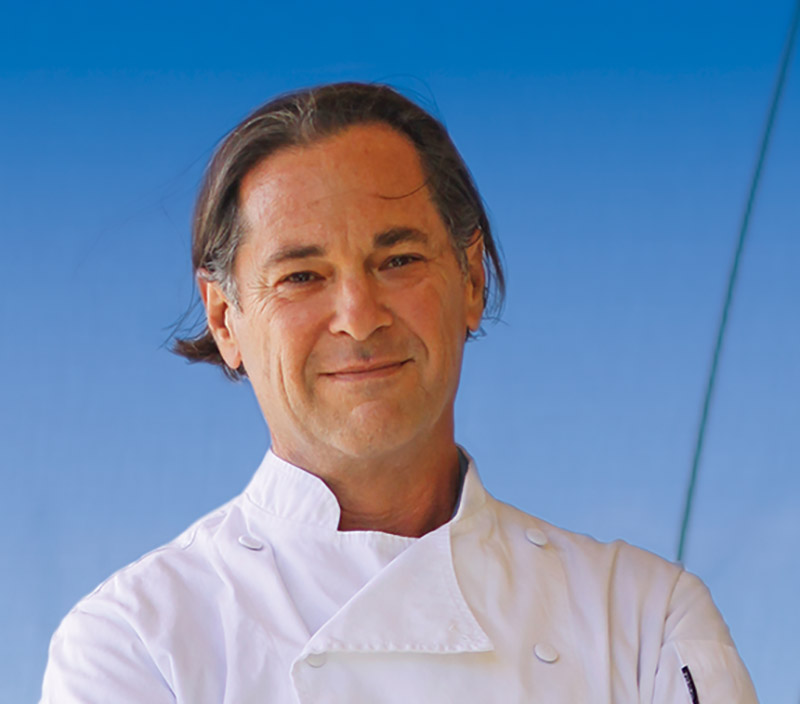 Mark Ellman
«Back to All Chefs
Biography
Mark Ellman Chef Owner his wife Judy Ellman have lived on Maui for 34 years where we have raised a family of three daughters,  Tina,  Ariana and Michelle. Also they have raised a family of restaurants on three islands in Hawaii,  Maui Tacos,  Penne Pasta Café and Mala Ocean Tavern, Mala Wailea Mark and Judy met over 40 years ago in a small western town in Los Angeles where Judy was the bartender and Mark was a cook in the kitchen at a Mexican Restaurant in Calabasas.
They fell in love and opened their first restaurant in Sherman Oaks California called Cuisine Cuisine,  a small Italian Eatery., Where they made homemade pasta and great friends. Long Story short they moved to Colorado for new surroundings,  too cold. Maui it was to be in 1985 Mark and Judy landed on Maui and knew they were home., In 1987 they opened their highly acclaimed Avalon Restaurant and Bar in downtown Lahaina where Mark forged a path of Pacific Rim Cuisine and eventually along with eleven other Hawaii Chefs formed the Hawaii Regional Cuisine Movement., Roy Yamaguchi, Sam Choy , Peter Merriman, Alan Wong, Roger Dikon, Amy Ferguson Ota, Gary Strehl, Pierre Padovanni, George Mavro, Jean Marie Josselin, Beverly Gannon, Mark Ellman, Together they published a compilation of recipes,  giving each chef their own chapter.,
Mark and Judy sold Avalon in 1998 to concentrate on their small taco stands called Maui Tacos,  which they started in 1993,  because they missed their beloved Mexican food of Los Angeles. In 2001 they also opened a small Italian Café called Penne Pasta Café where Mark enjoys his Italian heritage from foods from the south of the boot., It is a small family eatery serving paper-thin pizzas,  pastas and salads,  Lamb Osso Bucco,  Roast Chicken and Fresh Island Fish. Penne Pasta Café is now in its 6th year., And in 2005 Mark and Judy opened Mala Ocean Tavern, along with their daughters, Ariana and Michelle, a small Oceanside tavern serving Mediterranean and Pacific Rim and even some Latino flavored dishes. With long time friend and partner Shep Gordon Mala Wailea was created for the Wailea Beach Marriott resort and spa.
In 2008 Mark and Judy sold Penne Pasta Café, and their chain,Maui Tacos, to focus on Mala and Mala Wailea and Honu.
Mark is author and editor of a book called Practice Aloha, Secrets to Living Life Hawaiian Style.
A gathering of stories, songs and recipes from famous and not so famous people that live in the land of Aloha.
Now we are all very happy making Great food , Organic healthy fresh and delicious., We sit in a spot called Mala Wharf,  once a great pier that sailors in world war two came ashore to enjoy the Whaling town of Lahaina. Mala means Garden in Hawaiian and it truly is a beautiful spot where you sit at waters edge and gaze upon the islands of Lanai and Molokai and watch the turtles surf while they graze on ogo., This is the spot of all spots on the Westside of Maui and we could not think of a better name our little restaurant,  than to honor where we are,  in Mala our little bit of heaven on earth.
Mark and Judy created Honu in 2011, right next door to Mala.
Honu, Seafood and Pizza features great Seafood from Hawaii as well as Shellfish from the Pacific Northwest and the East Coast. Dishes like Crab Louie Salad, Shrimp Cocktail, Oysters on the Half Shell,
Whole Roasted Fish with Hawaiian Salt, Lemon and Olive oil, Grilled Octopus, Live Clam Chowder, Fried Opakapaka as well as Naples Style Pizza from our 900 degree Brick Oven. Honu works side by side with local Framers in Hawaii designing the menu from the items that the Farmers are harvesting. Mark and Judy's commitment to supporting Local and Organic has been a mainstay of their restaurants. Their commitment to bringing great food and ambience for the locals that live on Maui
has also been paramount as well.
Honu,and Frida's sits on the rocks . The 180 degree view of the Pacific Ocean, Lanai and Molokai too.
Honu features over 60 Beers, an extensive Scotch and Rum and Tequila selection as well as Eclectic and Organic wines.
And now in 2015, right next store to Honu, Mark and Judy have opened
Frida's Mexican Beach House.Frida's is the 17th restaurant that Mark and Judy have built. And it probably is the most beautiful.
Sort of, one might say back to the future in Calabasas. Frida's features traditional Mexican Cuisine, along with some influence from Central and South America. Fresh made Chile Rellenos,slow braised meats for tacos such as, lamb, pork, short ribs and chicken . Baja Style fresh fish tacos are the number one seller. The Tequila Bar at Frida's is second to none. The Margaritas are made with fresh squeezed Maui Sugar Cane juice instead of a chemical simple syrup.
Hawaii's freshest seafood is featured in ceviches and aguachiles, Ahi Aguachile and Fish Zarandeado. Fresh family made food from our family to yours. Mark and Judy now employ over 200 residents of Maui
Come by and say Aloha to Ariana and Michelle, the daughters who are in charge of Honu, Mala and Fridas. Or come and meet Mark;s sister Gerry, Frida's number one requested wait person Take home your free Practice Aloha bumper sticker.and sit and let your worries fade away while watching amazing sunsets and the wonderful Hawaiian Turtles.
Please enjoy our stories and recipes for life, drink and foods on our island of Maui, and learn how we live life Hawaiian Style and what we have learned about how the Hawaiian's live their lives by what they do best and that is to Practice Aloha.