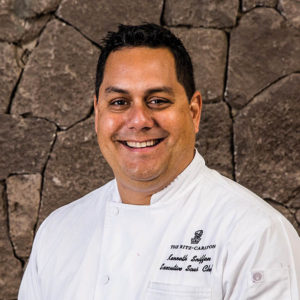 Kenneth Sniffen
«Back to All Chefs
Biography
Being born and raised on Maui, I went to Maui Community College and graduated with an Associate Degree in Culinary Arts. After graduation, I completed the American Culinary Federation Apprentice program and began my culinary career right here at The Ritz-Carlton in Kapalua. Through much hard work and dedication I was able to advance in the kitchen and eventually had the opportunity to work under renowned Chef Dean Fearing at The Ritz-Carlton, Dallas. After working with Chef Fearing for many years, I was promoted to Corporate Executive Sous Chef for The Ritz-Carlton Hotel Company to help culinary operations across North America and the Caribbean. During that time, I traveled and cooked around the globe for 14 years, before returning back to where it all began at The Ritz-Carlton, Kapalua.
Was there someone in your family that had a large influence on you in the kitchen?
My mother definitely has a large influence on me in the kitchen. She would always bring me into her kitchen to help her bake Pipinola (Hawaiian pear squash) pie, make fresh Lilikoi (passion fruit) cider and many other dishes that my family loved. Cooking with my mother was something I loved to do. She taught me a lot and as a reward for helping her, she would let me taste the dishes we created together before anyone else.
What was your fondest memory as a child that helped shape your culinary career?
My father was a very talented fisherman. I remember as a dock boy we would catch Aku (Bonita) together on the boat. We loved making home-made dry fish, diving for Tako (octopus) off of the coast of Maui and preparing poke for my ohana (family). Being able to fish and cook with my family is definitely one of my fondest childhood memories.
Where and when did you discover your love for the culinary arts?
I discovered my love for cooking from my family. My dad is Hawaiian and my grandparents are from Portugal and they introduced me to fishing, gardening and cooking when I was very young. I remember playing and working in the small orchard that my grandparents owned. They put me to work feeding the rabbits and chickens, picking weeds and raking leaves. I spent a lot of time in their orchard, working and playing and enjoyed the responsibilities they gave me. That responsibility helped instill a solid foundation of gardening knowledge that I still draw from today in my cooking style.
What is your culinary viewpoint?
My goal is to create unforgettable experiences through dishes I discovered during my travels and using only the highest quality ingredients. I do this by sourcing fresh, local produce, Hawaiian coastal seafood and exotic herbs and chilies from the organic, sustainable onsite garden at our hotel. I believe food is a global gift that comes from the heart. It brings people together through good times and hard times. The more love and care you put into a dish, the more impactful and memorable your food will be.