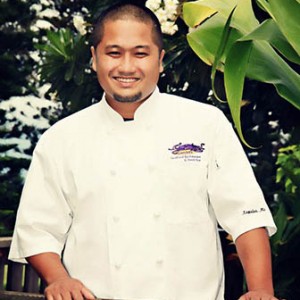 Kaipo Nakata
«Back to All Chefs
Biography
An advocate of the farmer, a fisherman, and hunter himself, Chef Kaipo Nakata truly believes that the best tasting, freshest ingredients come from your own back yard, no matter where you live. Lucky for his customers, his back yard really is Kapalua, Maui. Growing up within a mile of Sansei's original location definitely makes Chef Kaipo very comfortable in his surroundings.
"From a young age, I knew I wanted to cook and hanging out with my Uncle in the kitchens of Ka'anapali (then executive sous chef at the Sheraton, Ka'anapali) helped me realize that cooking would be a part of my future."
At 15, Chef  Kaipo worked at Jameson's in Kapalua as a line cook and a golf caddy at Kapalua Bay Golf course on nights and on weekends while attending Lahainaluna. Then after graduating High School he maintained three jobs as a deck hand on a busy fishing boat during the day, food runner at Planation House, and the famous Bay Club of the Kapalua Bay Hotel were he meet his wife Erin.  Cooking at these iconic eateries provided a sound foundation in the culinary arts, and confirmed his dream of one day becoming a great Chef. After taking a few months off to explore Europe with his new wife Erin, Chef Kaipo landed his first Sous Chef job at the iconic Pineapple Grill in 2006.
In 2008, Chef Kaipo joined  DK restaurants, starting at Kihei Sansei as a line cook and working his way up the ranks to opening Cane and Taro as the Executive Chef (which later would become Maui Fish & Pasta), at becoming Executive Chef at Sansei Kapalua, achieving his dream.
Chef Kaipo is a proud father of three children.