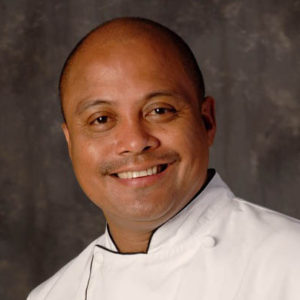 Joey Macadangdang
«Back to All Chefs
Biography
Joey Macadangdang born in the Philippines grew up working on the family Farm Piggery, Poultry, and Rice business. At a very young age, not only did he learn to harvest, he learned how to cook rice, which sparked his passion for food. In 1983 he immigrated to Hawaii along with his parents and four brothers. At the tender age of 13 years old, Chef Joey began his journey at Erick Seafood Grotto as a dishwasher/busboy/cook.
In 1987 he made a bold move, leaving behind what had become his island home to Oregon and worked as a Chef under the late prominent businessman, Butch Ogawa at Kampai Restaurant in Hood River.
After the successful launch of Blue Tropix Night Club and Restaurant as Executive Chef, in 1994 he joined Roy's Restaurant where Chef Joey really made his mark on dining. Starting out as a Line Cook and eventfully move to Sous Chef he quickly was named Executive Chef in 2001 opening Roy's Kihei and additional Roy's Restaurant locations on Maui. As his reputation grew, Chef Joey was sought out by the Cohn Restaurant Group in 2004 to open Pineapple Grill on the world-renowned golf course of Kapalua Bay. However, in 2012 he found his way back to Roy's as a Corporate Chef Maui and polished his signature flair for Asian-Local Island infused dishes.
Joeys has won three time of the Master Pinoy Cook Off competition at Maui Filipino Chamber of Commerce.
And has won Best of the Fest and Fan Favorite at Kapalua Food and Wine in 2013
Then in 2015 Chef Joey took a leap of faith in making his dream of owning his own restaurant establishment a reality. Joey's Kitchen centered in the Whaler's Village Shopping Center
and Napili Plaza, Chef Joey prides himself in "keeping it local", with daily fresh fish selections and farm to table service. His made to order menu brings the local grinds to the West Side. However, on any given day you'll find daily specials where Chef Joey will delight guests from all around the world, some of his signature or new dish, still working on his craft and if you don't see anything on the menu, Just ask the Chef!