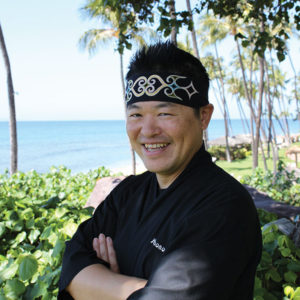 Jin Hosono
«Back to All Chefs
Biography
Born and raised in Kokkaido, Asahikawa City in Japan, Chef Jin came to the United States when he was 17 years old as a high school student on his own accord.  He graduated from Laguna Beach High School in California.  At the age of 21, Chef Jin started working at Katsuya Japanese Restaurant in North Hollywood.  He trained under Japanese Chef "Uechi Katsuya" for eight years; the cusisine was traditional multi course Japanese called "Kaiseki".
Chef Jin went back to Japan to study traditional Japanese Sushi at "Nakahisa" Tokyo, Ginza for three years.  After that he returned to the United States and held a position at "Nobu" Waikiki on Oahu, Hawaii for four years.  Chef Jin wanted to broaden his culinary knowledge and later worked at "Taormina Sicilian Cuisine" an Italian Restaurant.
Returning to his passion for sushi, Chef Jin accepted the position of Executive Sushi Chef at "Doraku" Sushi, where he worked for four years overseeing two restaurants and multiple sushi chefs.  Currently, Sushi Chef Jin oversees the Sushi operation in Japengo at the Hyatt Regency Maui.